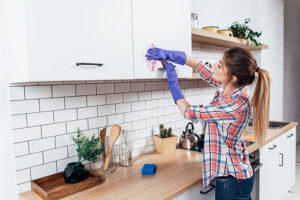 If you're about to put your home out in today's buyer's market, preparing your home for sale is vitally important. Often simple preparations can give your home that slight edge it needs for a buyer to choose yours over a similar home. It's well worth the trouble to take care of some basic things.
Steps to Preparing Your Home For Sale
First, what does your home look like from the outside? Is your landscape attractive and green and nicely manicured? How about the exterior of your home…is the siding and roof clean, and are the gutters cleaned out? Do you have a fresh coat of paint on your front door and a new welcome mat for visitors? All of these things can be taken care of without too much trouble, and they are the biggest part of that all-important first impression.
Inside the house, you'll want to create the impression that this is ideal living spot and place for belongings. If you have unusual wallpaper or furniture, consider replacing it with something neutral that doesn't leave an impression of different taste. Take care of any repairs that are needed…including leaky faucets, burned out light bulbs, or missing tiles on bathroom floors.
Remember that space is important to everyone…consider putting as much of your non-essential belongings in storage as you can, so that your home looks spacious and easy to walk around in. Pay special attention to your closets…remove as much as you can and organize what is left. People will check!
When your home is in pristine condition and organized, it tells the buyer you take care of things. Such an impression makes a world of difference, so look out for all of the details when preparing your home for sale.
Once you're ready to sell, be sure to choose the right realtor too…choose CENTURY 21 Reilly Realtors! Feel free to use this form for our free market evaluation, and let us show you what homes in your neighborhood are worth. We're here to help you sell your home quickly and for a great price.